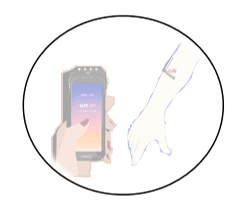 Forensic Nursing
Forensic Nursing is defined as the practice of nursing for the application of forensic health care in the scientific investigation of forensic cases. Forensic nurses are both members of the healthcare team and one of the staff who supports while resolving forensic cases. The working areas of forensic nurses include interpersonal violence, traumas, sexual assaults, human rights violations, public health, and safety. Forensic nurses have duties such as history taking, physical evaluation, forensic examination, collection and protection of evidence, and forensic report writing. Forensic nurses have a very important role in examinations and scientific investigations about both the victims and the suspects. Forensic nursing was recognized as a scientific discipline in 1991 by the American Academy of Forensic Science (AAFS). In addition, the International Association of Forensic Nurses (IAFN) was established in 1993. There are more specialized forensic nurses in the field like Sexual Assault Nurse Examiners (SANE). SANE are registered nurses who have completed specialized education and clinical preparation in the medical forensic care of the patient who has experienced sexual assault or abuse.
The forensic nursing process includes the stages of determining the forensic situation and potential victims, investigating forensic events, collecting documents and records related to the incident, providing appropriate care and writing reports, and reviewing the attempts made. Forensic nurses can work in emergency services, crime scene investigations, death investigations, prisons, prosecutors' offices, law offices, and forensic pathology laboratories, and can also work as expert witnesses/witnesses in the court. While working in these places, they work with a team consisting of members of many different disciplines (doctor, police, judge, etc.). Forensic nurses working in the clinical field provides recording medical information of victims or suspects after trauma, the proper removal and storage of their clothing, collection of biological evidence, taking necessary samples to detect alcohol/drugs, etc., keeping and recording all samples taken and delivering them to the relevant institutions and persons.
Sexual Assault Forensic Examination
In the sexual assault examination, forensic nurses help the victims of sexual assault to be examined in detail and precisely, collect physical and biological evidence, perform the necessary tests for the evaluation of sexually transmitted diseases, prevent possible pregnancies due to rape, follow-up and rehabilitate of victims and write a forensic report. While evaluating sexual assault cases, a practical mobile device is needed, especially for recording the detected evidence. It would be beneficial to have a mobile device such as "Smartphone", which offers easy usage, to be used by all forensic nurses working in this field so that all procedures can be carried out at once.
In addition, forensic nurses can participate in suspicious death investigations. Nurses working in this field take charge in the stages of the death examination, investigation of the crime scene, collection of evidence, photographing the crime scene, and preparation of the forensic report. "Smartphone" is a mobile phone-sized (6 ") portable imaging device that can be used very easily in all conditions.
In order to prevent loss of evidence, a multispectral imaging device such as a "Smartphone" is required for imaging the whole crime scene, photographing difficult areas, and detecting biological fluid (blood, saliva, semen, etc.) stains that cannot be seen with the naked eye. The "Smartphone" can also display even small details in high quality due to its optical zoom. "Smartphone" has Polarizer High-Resolution Multispectral Camera. In this way, it can record traumatic lesions such as wounds, ecchymoses, incisions on the corpse in high resolution. In addition, due to its powerful battery, it provides hours of examination.
While forensic nurses are on duty; It is necessary to be able to use some necessary equipment in some stages such as inspection, evidence collection, and storage. These are equipments such as bandages, sewing kits, first-aid kits, etc. for health-related situations. In cases of forensics for collecting and recording evidence, cotton swabs, forceps, cameras, light sources, optical devices must be used.
In forensic cases, samples should be taken from stains of body fluids. The ability to view stains on different floors can sometimes be quite challenging. For example, it is very difficult to see a bloodstain on a red or black background with the naked eye. Since the Smartphone has a light source of 360-720 nm wavelength and different light filters, it can detect these spots very easily. The smartphone allows both imaging and sampling at the same time. The person taking the sample can use the camera with one hand and use the swab with the other hand. Thus, situations such as wrong sampling or data loss can be prevented.
Forensic nurses play an important role in procedures such as photographing lesions in trauma cases in detail, accurately evaluating the anogenital examination in sexual assault examinations, photographing lesions, and imaging the stains of biological fluids that will collect evidence in crime scene investigation. In forensic cases, it is essential that evidential images can be obtained in the best way." Smartphone" has the same interface as an average cell phone and is an extremely practical device to use. It is a very useful device in the application areas of forensic nurses.
Evaluating forensic cases requires a multidisciplinary approach. When evaluating a case, staff from many different specialties work together. While these people are on duty, there is constant interpersonal data transfer. When evaluating a forensic case, it will be very beneficial to use the latest technological devices to minimize data loss, make the most accurate evaluation, complete data transfer, and securely store the collected evidence. "Smartphone" can save images in high resolution as RAW format. The RAW file is a collection of unprocessed data. This means the file has not been altered, compressed, or manipulated in any way by the computer. Therefore, the RAW format is the most reliable file format known in international justice systems and is accepted as evidence in courts.