ForenScope Technologies, a leading provider of cutting-edge forensic investigation solutions, has recently made headlines in Brazil. The esteemed Polícia Científica de Pernambuco (Scientific Police of Pernambuco) has acquired ForenScope's state-of-the-art equipment, which possesses the remarkable capability of identifying crucial evidence.
With this acquisition, the Polícia Científica de Pernambuco is set to revolutionize their investigative processes by obtaining more results in a shorter time; facilitating the investigation process with these remarkable devices. The equipment's sophisticated features enable swift and accurate identification of vital forensic evidence, contributing to enhanced efficiency and precision in criminal investigations.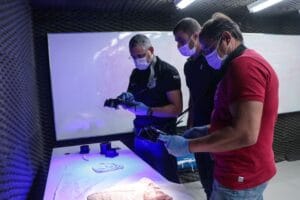 ForenScope Technologies continues to solidify its reputation as an industry leader, providing forensic professionals with innovative tools that significantly improve their capabilities in solving complex cases. Polícia Científica de Pernambuco marks a significant milestone in the advancement of forensic science in Brazil with the use of unique ForenScope Technologies.
Through their commitment to excellence and continuous innovation, ForenScope Technologies reaffirms its dedication to empowering law enforcement agencies and forensic experts worldwide, ensuring justice is served through cutting-edge forensic technologies.
Check out the link to read the whole article: https://www.folhape.com.br/noticias/policia-cientifica-de-pernambuco-adquire-equipamento-que-identifica/272863/