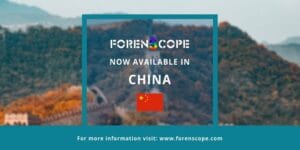 Forenscope's systems are regarded as revolutionary technologies that would greatly advance the forensic field. We aim to expand into different markets, and we are proud to announce that we are now available in China!
China Exclusive Distributor had made an agreement for Forensic area on 6th of August 2015. This agreement has contributed to the increasing attributes of forensic sector of the country and its forensic disciplines. Forenscope technologies plays a prominent role to which our unique devices have received an unprecedented attention.
All Forensic Science and Forensic Medicine professionals from Chinese Police, Military Forces, Ministry of Defense or Private corporations can easily contact us for more information about our products and distribution channel via [email protected]
We are ForenScope, we are always in research, always in development for the future of forensic science!