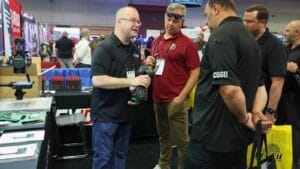 Team ForenScope is rapidly gaining momentum on the global stage! Our innovative range of products was showcased as the result of extensive research and development, to an expanding audience at the recent Police Expo in the United States!
The event served as a platform for introducing our cutting-edge devices to a captivated audience, including the highly acclaimed Contactless LITE fingerprint detection system; the world's first 100% Contactless latent fingerprint evidence system which takes crystal-clear images on reflecting surfaces, alongside ForenScope's other pioneering technologies…
If you happened to miss the chance to explore the comprehensive array of forensic solutions we offer, there's no need to fret. We are excited to announce that Team ForenScope will be prominently present at the upcoming IAI Conference in Washington D.C., scheduled from August 20th to 26th! This prestigious event presents another opportunity for you to engage with our team and experience firsthand the forefront of forensic innovation!
For detailed information on our unique devices, please contact us at [email protected] or visit www.forenscope.com